About Us
A private company, Scarborough Supply was established in 1982. Specializing in the supply, fusion and related fabrication of thermoplastic piping products, Scarborough Supply has been able to offer a wide range of diverse products to provide innovative solutions for both practical and advanced applications.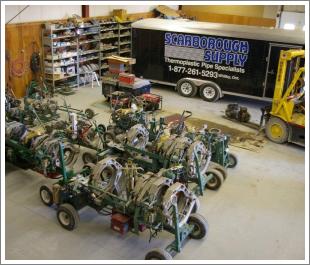 To efficiently service their markets, the company offices and fabrication facility are centrally located at 154 Crown Court in Whitby to provide easy access to and from their clients, as well as offering a pivotal role within the industry as a place for their clients' solutions to be found. Significant investment is required in fusion machines, related tools and equipment that have been accumulated over the years to properly complement the pipe. Scarborough Supply provides in-house fabrication and a complete on-site fusion service. Backed by over 100 years of combined employee service, experience, Scarborough Supply also offers engineering support, fabrication and fusion services.
With our thrust on activity in markets in and between Windsor, Sudbury, Ottawa, Cornwall and Toronto, Scarborough Supply works extensively in, but has not been limited to, southern Ontario. The company has been able to take their unique development of its services and products to customers on a global scale by distributing and offering expertise on projects in Australia, Russia, Mexico and the Caribbean.
To perform at peak expertise, the right people are required, which Scarborough Supply acquired dutifully long ago. Their dedicated employee team is skillfully trained and equipped to provide quality products and services. Heavily experienced in the industry, from senior management to fusion technicians, most of the employees have at least 10 years experience. The trust we have gained from our customers is really based on our experience and expertise. And we are proud of that…